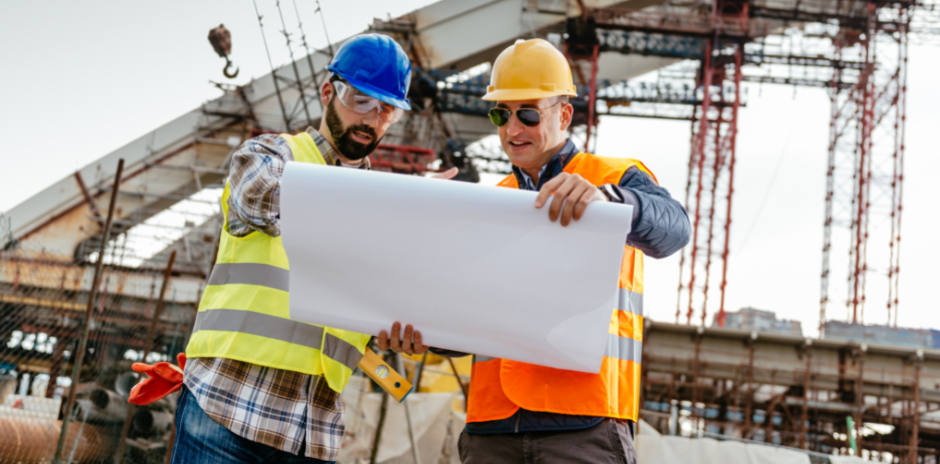 28 Nov

Types & Load Classification of Manhole Covers

From walkways and industrial service yards to shopping centres and airport runways, manhole covers are used all over the UK. However, understanding the material, type and load classification of manhole covers for a certain application, is crucial for achieving the correct levels of safety and effectiveness.

In this blog we take a look at the types of manhole covers available, the material that they are made from and the load classification that each fall into in accordance with their intended use.
Standard manhole covers
Standard manhole covers are simple drop-in units. The lighter duty solid top units tend to be single piece lids whereas the heavier duty covers tend to be made up of several triangles loosely coupled together with bolts. The bolts are left loosely coupled so that the lids sit down in the frame and don't rock when trafficked.
Additional options within the heavy-duty range include units that incorporate a hinge to allow for a one-man access operation and locking mechanisms ranging from a standard locking bolt to a MOD high security locking mechanism.
Recessed for block paving manhole covers
Block paving covers are made from galvanised steel and are recessed so that blocks can be put into the lid. This is purely for decorative purposes; it means that you will only see a very narrow steel edge once the covers are in place.
Recessed for screed manhole covers
Recessed trays are also used internally and have a recessed top so that they can be filled with screed. Customers normally fill these with tiles or carpet tiles. They also have an inbuilt seal that prevents smells from coming up into the building.
For aesthetic reasons, decorative edging is an optional extra for recessed trays, whereby the edging on the surface can be made from stainless steel or brass.
How to measure the clear opening size
Before ordering a manhole cover, you will need to know the clear opening size.
The clear opening size is the size of the hole you wish to cover i.e., the internal measurement within the brick or plastic chamber.
Other dimensions such as the lid or frame dimensions can vary between manufacturers so it's the clear opening size that is the critical measurement.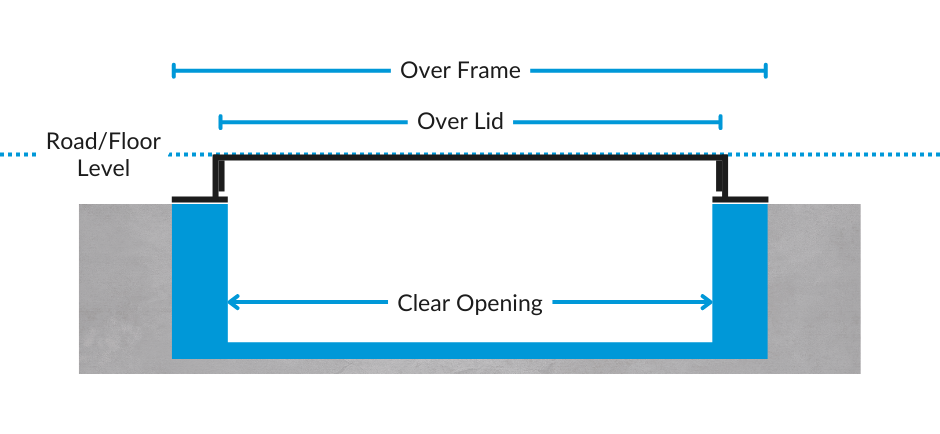 Material of Manhole Covers
Ductile iron manhole covers
Ductile iron is often used to manufacture heavy duty manhole covers because ductile is strong, flexible, and durable, making it perfect for heavy-duty uses such as industrial units, airports, and other high-traffic areas. The load classes for ductile iron manhole covers are outlined in BS EN 124:2015.
Fabricated steel manhole covers
For certain scenarios where a specific clear opening size or an additional option (e.g. hinge, seal, locking mechanism) is required, it may be better to opt for a made to order, fabricated steel manhole cover. Fabricated steel covers can take the form of galvanised steel or both grades (304/316) of stainless steel.
At Castings Services Ltd, we work with industry leading fabricators who produce products of the highest quality and can turn around made to order units on short lead times.
Load classification of ductile iron manhole covers
When ordering a ductile iron manhole cover, establishing the required load ratings is essential. Below is a diagram and further detail to each load rating: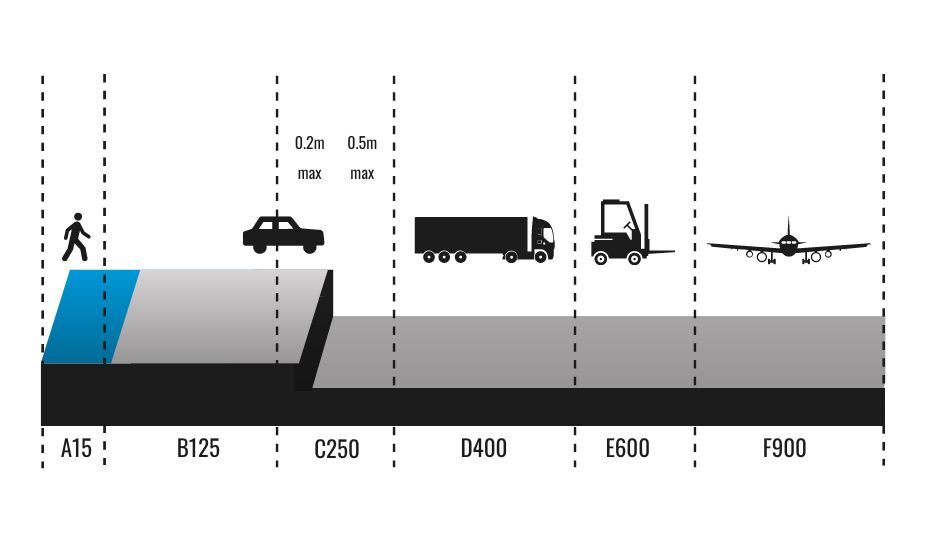 A15 Manhole Covers
A15 manhole covers are designed for pedestrian-only areas, such as gardens and pathways and are capable of withstanding a 15kN load test.
B125 Manhole Covers
B125 manhole covers are for use in low-traffic, medium-weight areas such as driveways, footpaths where vehicles may mount the kerb, and shopping precincts where small delivery vehicles and pallet trucks operate. B125 manhole covers are 125kN load tested.
C250 Manhole Covers
C250 manhole covers are suitable for lightly trafficked roads and small private car parks. They can also be used in highway locations up to 500mm from the kerb and up to 200mm into the verge (excluding motorways). C250 manhole covers are 250kN load tested.
D400 Manhole Covers
D400 manhole covers are the class for heavy-duty applications. This includes carriageways and roads, hard shoulders and parking areas for all types of vehicles. D400 manhole covers are 400kN load tested.
Though we can't speak for all, at Castings Services our D400 manhole covers are tested and kitemarked in compliance with BS EN124-2 and are also fully compliant with CD534 (formally HA104/09) and BS7903:1997. We also subject our covers to additional tests such as randomly placed load tests which aren't outlined in any standard but are more in line with real life scenarios.
E600 Manhole Covers
E600 covers are suited to areas with high loads suck as docks, aircraft pavements, industrial estates, loading bays and cargo handling yards. They are also common in inner city areas where the sheer volume of traffic, means they are often the ideal choice for such applications. E600 manhole covers are 600kN load tested.
F900 Manhole Covers
Finally, F900 is the highest load class of ductile iron manhole covers. F900 manhole covers are suitable for areas with extremely high weight loads, such as airport runways and busy industrial areas with solid-wheeled vehicles such as forklift trucks. F900 manhole covers are 900kN load tested.
At Castings Services, extreme loading covers are one our specialist areas and we work with numerous clients on MOD sites and Airports where these products are required. Quality is everything when it comes to these projects which is why we only work with leading UK, European and US foundries when manufacturing F900 manhole covers.
Load classes of fabricated steel manhole covers
Fabricated steel manhole covers have an alternative load class specification than ductile/cast iron castings to adhere to. They're subject to FACTA load class ratings (Fabricated Access Covers Trade Association).
FACTA load class ratings take into consideration the elastic nature of steel, highlighting the difference between slow moving and fast-moving wheel loads. Full Details can be seen in the table below: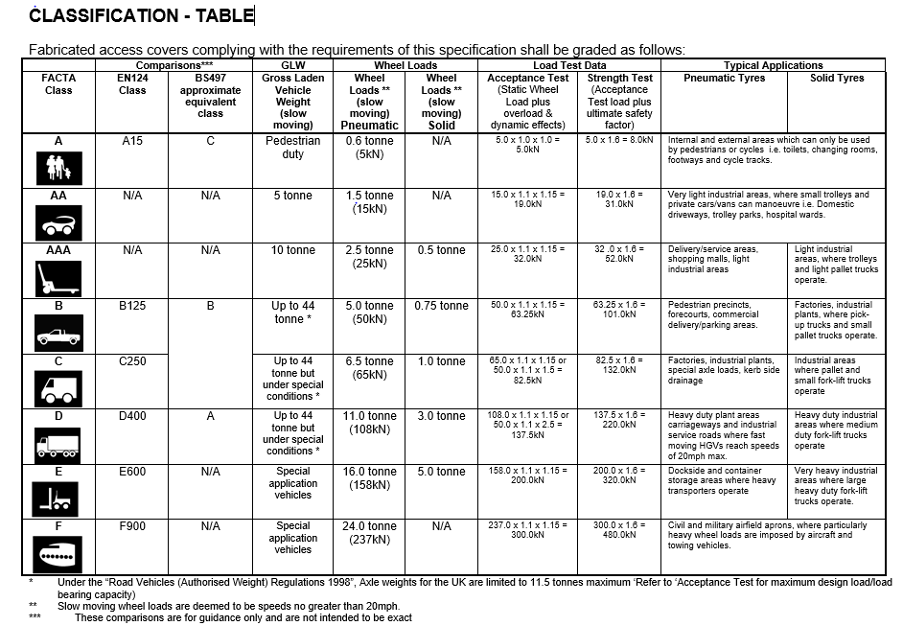 Choosing the right manhole cover for the job
Throughout the last 30 years Castings Services have specialised in the supply of ductile iron products to the civil engineering sector, with galvanised mild steel coverings also available.
Get in touch with our expert team today and source the most suitable manhole cover for your application. Talk to us on 0161 745 9095 or use our contact form.