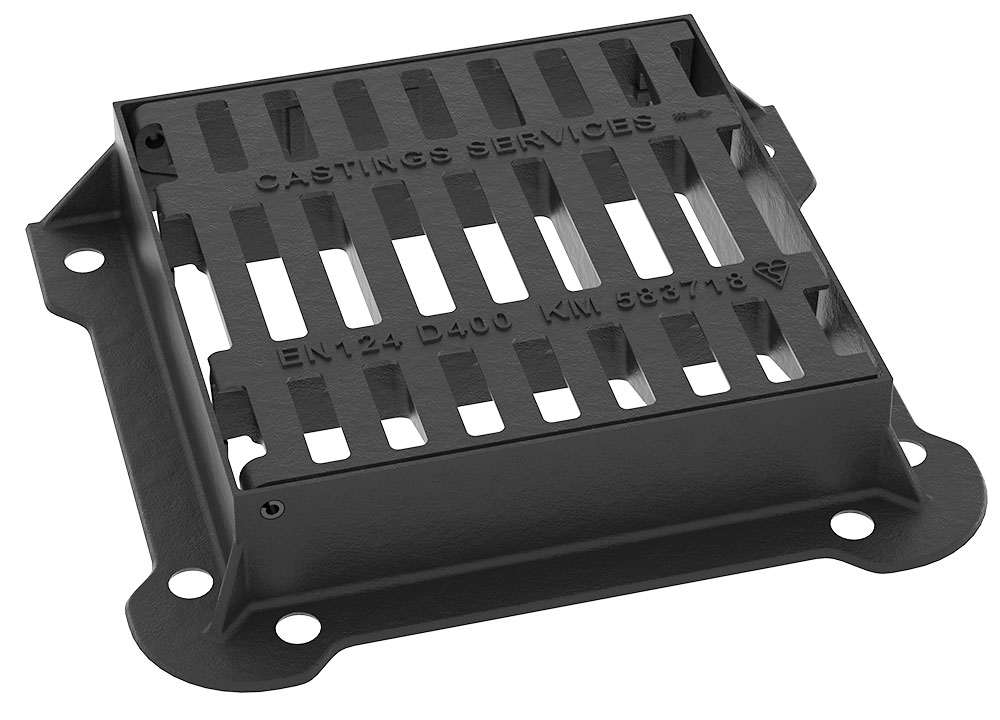 03 Jan

Types of Gully Gratings
Choosing Gully Gratings
Gully gratings, sometimes called gully grids, span the open top of a drainage gully. They're essential for allowing water to drain away efficiently, while also stopping large objects from entering or blocking the drainage system.
Castings Services produce a range of gully gratings that are found everywhere from domestic driveways to airport runways. Our gully gratings exceed all load tests outlined by the BS EN 124 classification and are manufactured in British and European foundries that meet the highest environmental and human rights standards.
When choosing a gully grating, selecting the correct load rating is critical to ensure safety and durability. We supply products in 5 classes that suit a range of different applications, with each class suited to a specific weight loading.
B Class Gully Grates
A B125 gully grate is suitable for areas used by pedestrians or areas with occasional light vehicular use. This includes footpaths or parking decks. They have a load weight of 125kN (12.5 tonnes).
Also known as yard gullies, they are designed to fit on small bottle gullies. Our B125 yard gullies come with a dished grating that will sit neatly in a dished concrete channel.
C Class Gully Grates
A C250 gully grate is suitable for kerbside channels of roads extending 50cm into the carriage way or 20cm into the footway. They are ideal where slow-moving traffic is present, such as car parks and petrol stations. They have a load weight of 250kN (25 tonnes).
The anti-theft hinge design prevents theft and an additional stainless-steel bolt can be added to deter unauthorised opening.  Our C250 gully gratings can feature pedestrian and cycle friendly mesh.
D Class Gully Grates
A D400 gully grate is suitable for carriageways of roads, hard shoulders and parking areas for all types of road going vehicles. They have a load weight of 400kN (40 tonnes).
Our UK made D400 gully grates are tested and kitemarked in compliance with BS EN124 and are also compliant with CD534 (formerly HA104/09) and BS7903. Our D400 gully gratings come with anti-theft hinges as standard and we can offer additional design features such as locks and pedestrian safe mesh tops for use in shared surfaces. Each gully grate has been designed to have optimum drainage characteristics and the maximum possible waterway.
Side Inlet Gullies
Designed to fit in to the kerb line and match with the kerb profile. Side inlet gullies or kerb gullies are popular on dual carriageways and other busy roadways where gratings are kept out of the line of the traffic.
E Class Gully Grates
An E600 gully grate is suitable for areas subject to high wheel loads. This can be anything from docks and aircraft pavements to extremely heavily trafficked carriageways. Featuring anti-tamper stainless steel locking bolts, they have a load weight of 600kN (60 tonnes).
They are also common in highly built-up areas such as city centres. Although the load weighting far exceeds the intended use, the sheer volume of traffic on busy highways, coupled with the anti-tamper features, means they are a popular choice with city planners.
F Class Gully Grates
An F900 gully grates is suitable for areas with extremely high wheel loads such as runways and aircraft pavements, or busy industrial areas with solid wheeled vehicles such as forklift trucks. They have a load weight of 900kN (90 tonnes).
Extreme loading gully grates and covers are one of our specialist areas. We work with numerous clients on Ministry of Defence sites and airports. Quality is everything when it comes to these projects. We only work with leading UK, European and US foundries when manufacturing F900 gully grates to ensure absolute reliability.
Choosing the right gully grate for the job
Throughout the last 40 years Castings Services have specialised in the supply of ductile iron products to the civil engineering sector, with galvanised mild steel products also available.
Get in touch with our expert team today and source the most suitable gully grating for your application. Talk to us on 0161 745 9095 or use our contact form.